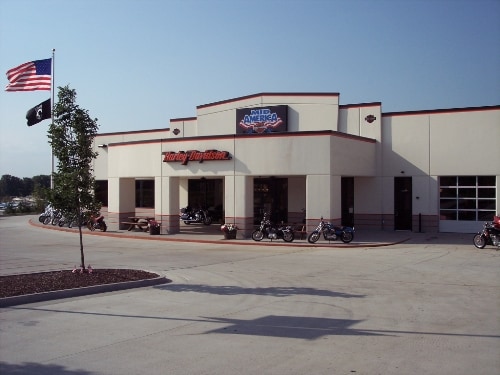 Mid America Harley-Davidson is located in Columbia, MO and has been family owned and operated by the Tuchschmidt family since September 2001. Mid America Harley-Davidson is a full service dealership. We take pride in carrying a full line of Harley-Davidson Motorcycles, Parts and Accessories, Motorclothes Merchandise and well as offer award winning service, Riders Edge™ and Rental motorcycles, all in a friendly and fun atmosphere.
Building relationships with our customers and being involved in the local community keeps motorcycle riding in Columbia a valued and prestigious tradition. With our friendly and personable staff, we enjoy working at Mid America Harley-Davidson, and always welcome our customers to come and visit. Remember, our facility is where you will find the answer to all of your riding needs. From Parts and Accessories to Motorclothes Merchandise to award winning service to our Riders Edge™ Program and Harley-Davidson Rentals to our showroom, we have it all.
We look forward to seeing you and all of your motorcycle riding needs. We hope you enjoy our dealership, as much as we enjoy serving you. Welcome to the family we look forward to seeing you soon.
Sincerely,
Mid America Harley-Davidson Staff
Everything You Need to Know About Mid America Harley-Davidson®:
Proudly serving riders from Columbia, Sedalia, Jefferson City, Blue Springs and beyond
The Tuchschmidt family has owned and operated Mid America Harley-Davidson® in Columbia, MO since September of 2001. Serving the immediate area as well as Sedalia, Blue Springs and Jefferson City, we offer anything a committed rider could possibly want as well as everything a novice will need to get started - including the Riders Edge safety course.
So where to begin?
Most like to browse our great selection of new Harley-Davidson® models. After all, there's no point in riding if you're not gripping the handlebars of something you truly love. Looking for something slightly vintage? We offer a great selection of used motorcycles as well.
Of course, it's easy to find a Harley-Davidson® that you love?but making the numbers work? That's the part no one enjoys. Well, most no one except our Harley finance experts. With a deep knowledge of the fiscal side of riding, they're ready to help you ride in complete financial comfort.
That, however, isn't all we do to serve you. To ensure your overall riding experience doesn't deteriorate as time goes by, we staff an onsite Harley-Davidson® service department.
Getting sick of riding the same old thing? Whether you want to spice up your motorcycle with genuine Harley-Davidson® parts and accessories or change up your look with some new Motorclothes, you'll find it at our dealership.
Everyone at Mid America Harley-Davidson® looks forward to serving your needs, whatever they may be. Not sure how to get here? We're located conveniently at 5704 Freedom Dr. Columbia, MO 65202.